Fire safety signs
how many do I need, where do they go...?
fire safety signs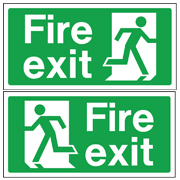 Fire exit signs regulations stipulate that it is the duty of the employer to ensure that there are adequate health and safety signs provided wherever there is a risk to an employee's health and safety. The fire risk assessment will identify and show the need for fire exit signs in your property.
The following fire exit signs information can give you some idea of the regulations involved to help in the purchase and placement of your signs.
According to the UK Building Regulation requirements, there should be an exit sign placed on every doorway, escape window or another route which provides an exit and means of escape from a fire or other emergency situation. The signs should conform to the BS 5499 Pt 4:2000 which will meet the Building Regulations. They will also meet the requirements of the Health and Safety 1996 – Safety Signs & Signals Regulations.
Fire exit signs must be in place wherever there is a perceived risk to the health and safety of employees, customers or the general public. If there is no significant risk (according to your fire risk assessment) then a fire exit sign is not required but- in a complex building with a choice of exits and a complicated layout you must make sure that all exit routes are signed using the appropriate design, size and location of the sign. You should also use directional arrows if necessary – whenever there is a risk that individuals will not be able to locate a safe place or exit if there was a fire.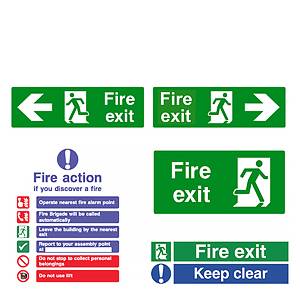 Fire Exit Signs Illumination
The regulations stipulate that fire exit signs must be legible all the time. If your premises need emergency lighting then the fire exit signs must be illuminated too. These should be illuminated using the emergency lighting just in case the normal power supply fails. You can illuminate the fire exit signs in a variety of ways:
External lamps – just so long as the sign has adequate lighting
Internal lamps – some self-contained lit fire exit signs are available
Self-luminating fire exit signs – which do not need any type of external power source for illumination
Don't risk the safety of your staff or the safety of your property by not following the fire exit signs regulations. It is easy to put in place and can help to save lives.
Fire safety is a serious business so it's important that you take it seriously.
---
Who does it apply to?
The Order applies to almost all buildings, places and structures other than individual private homes – that's individual flats in a block or family homes.
Other places covered by the Order include shared areas in houses in multiple occupation (HMOs), blocks of flats and maisonettes.
The London Fire Brigade have produced -fire-brigade-fire-safety-guidance-note-gn66.pdf" target="_blank">a guide that you can see here
---
What are your responsibilities?
You need to make sure:
Your premises reach the required standards.
Employees are provided with adequate fire safety training.
---
What happens if you aren't compliant?
If it's found that there's something wrong, then action ranging from providing information and advice to prosecuting those responsible in a court of law is available. For serious offences, you could be fined and/or imprisoned.
---