Fire safety training
Knowledge saves lives...
fire SAFETY TRAINING
If you are responsible for employees or volunteers, it's important that you provide fire safety training. Here's what you need to know... 
Fire safety training for businesses and organisations
If you are responsible for a business or organisation, it's important that you provide fire safety training as part of your normal training and induction process. 
---
Why provide fire safety training?
You need to train new staff when they start work and tell all employees about any new fire risks.
You should carry out at least one fire drill per year and record the results. You must keep the results as part of your fire safety and evacuation plan.
---
what is fire safety training? 
In the event of a fire in the workplace, the highest priority is to get everybody out of the building as quickly, efficiently and carefully as possible. Although no matter how many times employees have been informed about the evacuation process and methods of fire protection, reasonable action can be easily forgotten.
The reason for this is that, in an emergency, employees may panic due to the lack of training in the exact process of evacuation. Emergency situation provokes unknown feelings and reactions that require an immediate response, which may not be logical. Fire safety experts believe that training, knowledge and practical experience can cause behaviour to be modified. This involves preparing people for how to deal with a fire, this will lead to the best chance of a safe and methodical evacuation process being conducted
Staff fire safety training should be well within the scope of the management of a small business. It can be carried out in house, or by a reputable company or a small number of employees trained, by an external organisations, and they in turn would train the rest of the work force. It is the responsibility of employers to ensure that their staff are adequately trained on what to do in the event of fire. Training should be should be given upon induction and preferably a second time within the first month of employment. Refresher training should be given at least once a year. Training should be undertaken by a competent person and a record kept in some form of log book.
---
How to do a Fire Risk Assessment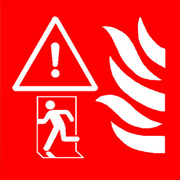 Controlling fire risks is an important part of managing a property. In order to be able to protect against the risks of fire, the first step is to identify these risks and this is where the fire risk assessment comes in.  A legal demand for all 'non-domestic' premises, fire risk assessments (or FRAs) are a snapshot of how protected any given property is to ensure the safety of its occupants in the event of a fire. The FRA also identifies corrective actions and further steps to achieve an appropriate level of fire safety.
Broadly speaking, assessments are conducted in five key steps:
Identify the fire hazards.
Identify people at risk.
Evaluate, remove or reduce the risks.
Record your findings, prepare an emergency plan and provide training.
Review and update the fire risk assessment regularly.
---
who would check my fire risk assessment?
Your local Fire Brigade. Inspecting premises is part of their duty to keep people safe from fire. If your premises aren't safe, or you haven't done an assessment, you may be fined. If they believe people are at risk, may even have to close your business until you can make it safe for employees and members of the public.  
---
Who should do my fire risk assessment?
It depends on how large or complex your business or organisation is. If your business is larger or more complex, contact an expert to come and help, you'll need to find a suitably qualified specialist... See a guide here
If your business or organisation is relatively small and you think your potential risks aren't complex, it is possible to do it yourself. You can find a guide to help you understand what's required here
---